CHRISTMAS!!! Whoo hoo! I'm really excited this year! For once I am actually organised and I can relax and look forward to it for a change. Usually I am out there with every man and his dog doing the last minute Christmas shopping. UGH. That's just not fun! I made the decision this year to be done by Dec 1st, well, I didn't quite make it, but I was done with 2 weeks to spare! YAY me! LOL. I'm also trying to think about our camping trip to
Valla resort
. We are camping for two whole weeks, but al least this time we will have power and running water! It's a nine hour drive for us, so we are planning on leaving in the wee hours so that the kids will *hopefully* sleep most of the way. Nine hours in the car with 5 kids,
could
be interesting to say the least.
Bunny
had a little photography challenge for us today
on her blog
. The challenge was to take 5 photo's on the first things that jumped out at you. Well, my photography skills need a little work, but here are my 5 pics....
The wreath on the front door
The mess of colouring textas left lying around (ignore the dirty kitchen bench underneath them LOL)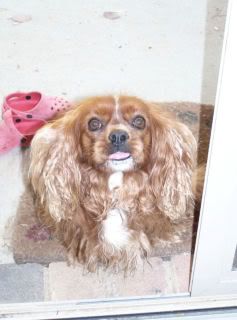 Charlie, our 5 yo Cavaleir. Man, he really does need a haircut doesn't he?
The rope lights that we
HAD
to have, that are still sitting behind the front door waiting to see the light of day.
Basket of washing that has been sitting on the coffee table waiting to be put away for about 4 days now, hahahahaha.
Thanks for challenge Bunny, that was fun! Aside from anything else, it really does remind me how much there is to do around here! LOL
Well, I finally got my Christmas kit finished.
All I Want for Christmas
is a cute Christmas kit in traditional colours, with lots of fun and funky elements. It has 10 patterened papers, 3 plain papers and 50 elements, perfect for scrapping your Chrissy pages. It's onsale for 20% off until Christmas eve.
Usually I have trouble scrapping with my own kits, but I had a play with this one and came up with this page..
Isn't he gorgeous?!?!?! This little munchkin belongs to friends of ours and he is such a delight to be around. Always happy and smiles with his whole face!
Here's a little freebie for you. The cluster framae I made for the LO.
You can DL it by clicking on the image. As always please no sharing of or hotlinking to my files. That would be a violation of my TOU, and wouldn't be very nice :(. Send your friends here to my blog where thay can download it for themselves.
Well that's it from me for today, I'd better go get something done around here.
CYA's!
:o)