oh what a Beautiful Day!! Isn't that how the song goes? LOL. Well it isn't actually a beautiful day here at all today...it's raining. But we so badly need the rain so I shouldn't complain.
I woke up to the most amazing sight this morning though. I've opened my eyes and there is this weird kind of orange glow coming in through the cracks in the curtians, I'm thinking "Oh my god!?!?! What an earth is that?!?!?!? (the last time I saw an
orange glow like that
, the whole city was on fire!) SO I've jumped out of bed and it was the weirdest sight! The sun was coming up in the east, but the light was reflecting on the rain clouds in the west, hence the orange glow. But onver on the hill was the most vivid rainbow I've ever seen!! By the time I ran around in the half dark trying to find my camera, it had faded a bit, but I did manage to get a couple of snapshots.....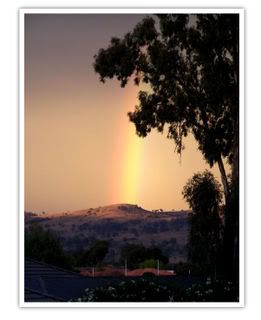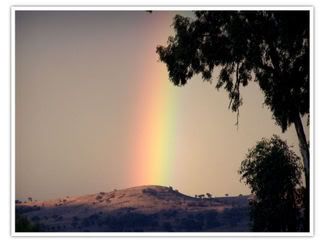 Maybe it's a sign? Today is DH's b'day afterall!
Well it's my birthday this week too, and what better way to celebrate than with another sale? Head on over to my
DSO store
from the 13th - 16th April where you will find 35% OFF EVERYTHING!! Yep, everything, kits, templates, commercial items QP's and more!!
Have you checked out the
shape challenge
at DSO yet? If you join in the fun, you will receive this cute little mini kit as a bonus!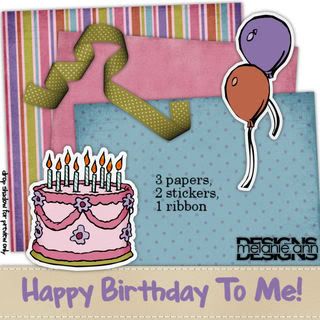 Can't wait to see those birthday LO's!!
Don't forget the mega kit's are now available as a download a day, keep an eye on
this forum
, and collect all the pieces to make up the whole entire awesome kit!!
Well that's it from me today, I'm off to enjoy a quite Sunday with the fam!!
Hope you all have a great day!!